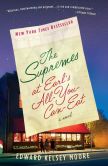 Photo Credit:
Barnes and Noble
I bought this book for my mom Mother's Day. When I was looking at the book choices I could make, this one stood out as different than your average romance or mystery or action novel. It seemed like it told a story. A few days later my mom called me to tell me she finished the book in just a day or two. (So obviously she enjoyed it.) She sat it aside for me and when I visited her, she passed it along. With the recommendation of my mom, I knew I would enjoy the book.
The strongest part of this book is hands down the characters. They are so vivid that you sometimes forget that they aren't real! Each character has a story and a past. Throughout the novel we discover those stories. We also discover their flaws and they are big flaws. No one is perfect and these women are no exception. Despite their flaws and maybe even because of them, the women are best of friends and no one can tear them apart. We see their flaws, but we also see how their friends see them. I think that is what makes us love them so much. The other minor characters are also full of flaws, but we don't hate them either because we see how other people see them. And each character realizes their faults and does try to make them better. It would probably be very easy to hate most of these people for their faults, but we don't have a chance because there are so many people around them that love them. And that love inspires them to love themselves a little more.
The plot is well done as well. The shifts in time and character perspective could be confusing, but I never had a problem with it. The author does an exceptional job of clearly defining who and when these events are taking place without the reader noticing him doing it. The history of each character is presented as it applies to their present circumstance. It really makes it seem like you are sitting next to them hearing stories. The end is a total surprise and pleasantly so. My only slight 'complaint' which really isn't so much of a complaint is that the Eleanor Roosevelt thing was a bit odd. You'll have to read it to get that though.
The author does an amazing job of presenting life for African Americans over the last 50 years without getting too bogged down in politics and culture differences. It teaches without a guilt trip. I greatly appreciated that as well.
A fun read with unforgettably lovable characters.
_________________________________________________________________________________
The Supremes at Earl's All-You-Can-Eat
Publishers Weekly
The indefatigable trio of Barbara Jean, Clarice, and Odette (known as "The Supremes" since high school) churns the small community of Plainview, Indiana into a Southern-fried tailspin this debut from Moore, a professional cellist. Each of the central characters brings unique challenges to the tables at Earl's diner: Odette battles cancer while her pothead mother communicates with famous ghosts; Clarice tries to salvage a crumbling marriage with her cheating husband; and beautiful Barbara Jean, who married for money, drinks to forget a youthful affair and her dead son. In a booth at Earl's All-You-Can-Eat, a short walk from Calvary Baptist Church, these women lay bare their passions, shortfalls, and dramas. Clarice's cancer treatment brings them together in melancholy, but it isn't long before secrets are revealed and the scramble to catch up on lost time begins. Despite meandering points-of-view and a surplus of exposition, Moore is a demonstrative storyteller and credits youthful eavesdropping for inspiring this multifaceted novel. Comparisons to The Help and Fried Green Tomatoes at the Whistle Stop Cafe are inevitable, but Moore's take on this rowdy troupe of outspoken, lovable women has its own distinctive pluck. Barney Karpfinger, the Karpfinger Agency. (Mar.)